When you need dumpsters for any reason, turn to our team to get the solutions you are looking for.
If you are planning on building a new structure of any kind or doing renovations on an existing building, you will inevitably generate a great deal of waste material. When dealing with such large quantities of waste, standard trash cans will no longer serve your needs, and you will instead need to upgrade to a larger dumpster. Our team at Versatile Industries V, LLC has extensive experience in waste management, and we offer a variety of high-quality dumpsters for rent to help you tackle this particular challenge.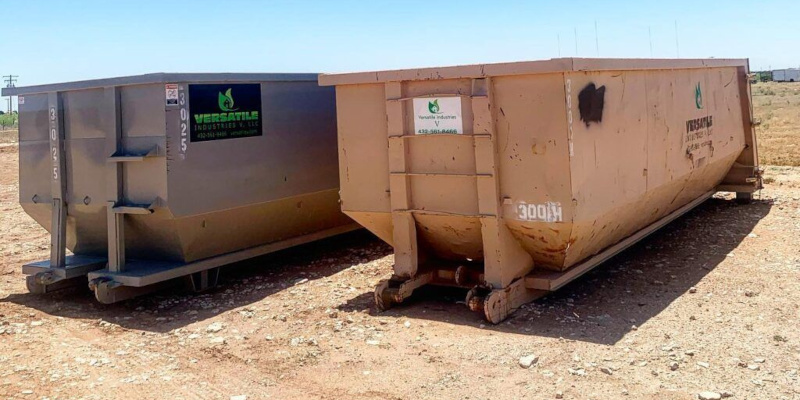 When you contact us to discuss dumpster rentals, we will first help you evaluate your waste management needs and find the ideal container size to suit them. Our team offers dumpsters in sizes of 10, 20, 30, and 40 yards, so no matter how much waste material you need to get rid of, we have the container for you.
We also make the rental process as simple and easy as possible—in most cases, we can even provide same-day delivery. Then, once you are finished with your dumpsters, all you need to do is contact us again to have us take the full containers away and dispose of their contents. If you have questions about our services, simply reach out to our team to get the answers you are looking for.
Our team is proud to serve the community here in Midland, Texas, and we want to help you ensure your project goes smoothly. If you are looking for dumpsters for your project, just give us a call.
FAQs About Our Commercial Dumpster Rentals
As a business owner, you want to streamline all of your processes, including waste disposal. Make this happen with our high-quality dumpster rental options. To learn more, keep reading to learn the answers to some of the common questions we receive about renting a dumpster from us.
What size commercial dumpsters do you have for rent?
Our dumpsters are available in 10-, 20-, 30-, and 40-yard sizes. If you aren't sure which size will work best for your business' specific needs, we can provide you with our recommendation.
How long can I keep my dumpster rental?
Let us know how long you need to keep your dumpster rental when you make your reservation. We are flexible with our rental terms, so it is likely that we will be able to meet the timeframe constraints of your project.
Where should I place the dumpster on my property?
We suggest having us place the dumpster on a flat surface. We also recommend having us put the dumpster in an area that is convenient for you while still being out of the way to traffic.
What does your dumpster rental process look like?
Contact us directly and let us know what size dumpster you need and how long you need the dumpster for. We will then provide you with a quote and arrange a time for drop-off and pick-up.
How do I reserve a dumpster rental?
To rent a dumpster from us for your business, reach out to us directly and give us more details about your project. We look forward to hearing from you!