We offer roll-off dumpster rentals for your urgent waste management needs.
Different projects have different waste management needs. If you have a project that will produce a large amount of waste, you can turn to us at Versatile Industries V, LLC for a roll-off dumpster rental in Midland, Texas. Our dumpsters are high quality and competitively priced, so you can get the waste management solution you need without any trouble.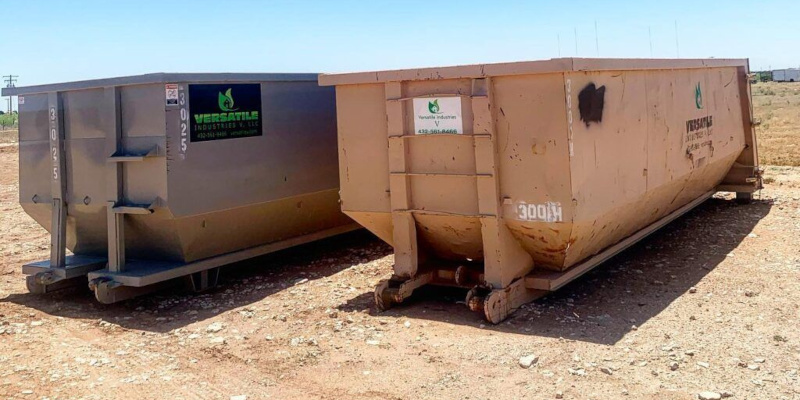 We offer roll-off dumpster rentals in several sizes, so we are prepared to assist you whether you will be dealing with a small or extremely large amount of garbage. Our dumpster sizes are 10, 20, 30, and 40 yards. If you are not sure which size is right for your project, don't worry. Just tell us a bit about your project when you contact us so our staff can help you select the right option for your needs.
Versatile Industries: Your Construction Dumpster Solution
You can rest assured that our roll-off dumpster rentals are suitable for many different types of projects. We often provide dumpsters rentals for large construction companies, remodelers, contractors, builders, and more. We can even provide dumpsters for landscapers or homeowners who are deep cleaning their homes, so we are confident we can meet the needs of your project.
If you urgently need a roll-off dumpster rental for a project, we are able to provide same-day services in most areas. Contact us today to reserve your dumpster rental. We look forward to assisting you soon.
FAQs About Roll-Off Dumpsters
When you need a convenient, temporary container to get rid of unnecessary items, materials, or debris, you can't go wrong with renting a roll-off dumpster. These containers have wheels so they can easily roll on and off the delivery trucks, and they typically don't have lids to make it as easy as possible to throw away unwanted stuff. When you need a roll-off dumpster, give our team at Versatile Industries a call, and we'll help you select the right container for your specific needs.
Should I get a roll-off dumpster or a standard dumpster?
When you're debating which type of container to rent for your project or event, think about what kinds of items will be thrown away. For example, if you're cleaning out your home and are going to be throwing out large items, such as furniture or appliances, you probably don't want a dumpster with a lid. On the other hand, a lidded dumpster might be better if you need to rent it for several days and don't want any critters crawling inside the container.
Why should I rent a dumpster from your team?
With over 30 years of experience in the waste management industry, we stand head and shoulders above our competitors. We're proud to be registered with the Texas Commission on Environmental Quality, and we strive to do everything we can to responsibly dispose of all materials that our dumpsters accumulate. This way, you can rest easy knowing that all items you throw out will be properly sorted and disposed of at the correct facilities. Lastly, we offer unbeatable response times, often delivering dumpsters to our clients within 24 hours of them first contacting us.