We offer several types of porta potty rentals for your convenience.
Porta potty rentals are important for many purposes. Construction worksites, industrial worksites, and highway construction are a few examples, and many more rely on them when conventional restrooms are unavailable. Portable restrooms protect the environment when biodegradable and recycled products are used. If your business or local community needs porta potty rental in the future, turn to our team at Versatile Industries V, LLC to provide them. We have extensive experience providing sanitation services, including porta potty rentals, and you can rely on us to meet your needs in a timely manner.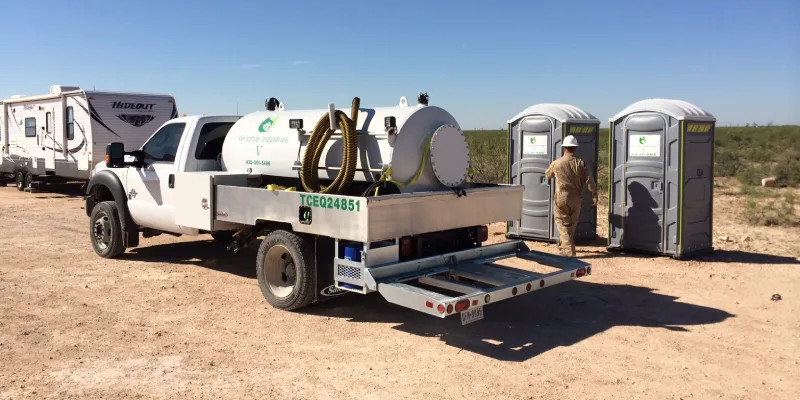 Our porta potty rentals are always cleaned and inspected before delivery. In other words, you can rest assured that people will be able to use them comfortably and without concerns about health. Flexibility is also important to us, so we provide several options such as single-stall porta potties, hand wash stations, and combination trailers to suit your needs. And because it shouldn't be expensive for people to have easy access to a restroom, we are proud to offer competitive pricing for our porta potty rentals.
Whether we are providing one porta potty rental or several of them, you can rely on us to deliver them to your site quickly. In most cases, we can take care of your needs in 24 hours or less, as we have the staff and equipment to do so.
If you need a porta potty rental in Midland, Texas, just give our team a call. You can depend on us to provide the equipment you need and customer service you deserve.

FAQs About Renting Porta Potties
When you think of a porta potty, you might cringe as memories of unclean, cramped, and flimsy portable restrooms come to mind. However, not every porta potty is gross and unkempt. When you choose to rent porta potties from our team at Versatile Industries V, LLC, you can breathe a little easier knowing that you'll receive sanitized, well-maintained equipment for your event, construction site, or other situation. Keep reading to see some of the common questions we get about our porta potty rentals and their answers.
When do people rent porta potties?
In addition to construction project sites and large outdoor events, people may rent porta potties for a variety of other reasons. For instance, someone may choose to rent a porta potty for a backyard party so people don't track dirt into the house. Similarly, if there is a major renovation or remodeling project occurring at a home or business, the property owner might need a temporary porta potty while the bathroom is under construction.
What makes your business different from the competition?
As a locally owned and operated business, we're able to offer a level of personalized service that our larger competitors simply can't beat. Furthermore, with over 30 years of experience in the sanitation and waste management industries, we know the best methods to clean and maintain our high-quality facilities. Our large inventory and dedication to customer service also mean that we can supply porta potties on short notice; in most cases, we can deliver a porta potty (or multiple units) directly to your location within just 24 hours. If you'd like to find out more about our business, please don't hesitate to contact us today!