We make it easy to get the construction dumpsters you need for your project.
At Versatile Industries V, LLC, we have over 30 years of industry experience, and we are familiar with the challenges involved in pulling off any kind of build. For example, a key thing to plan for is waste management, as construction efforts always generate trash and waste material. Our team offers construction dumpster rental services to help you address this aspect of the project.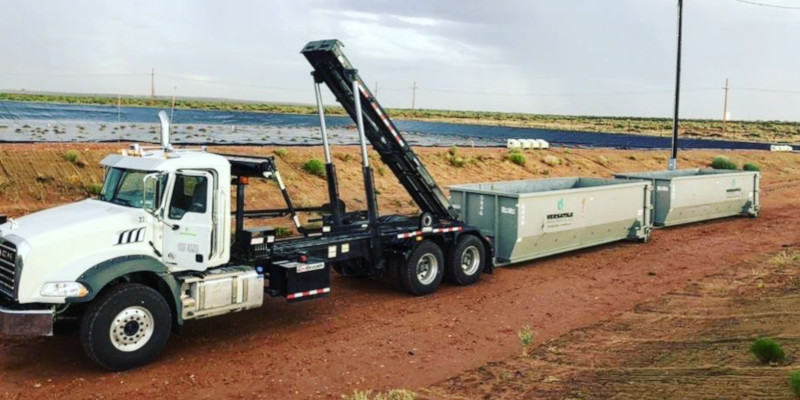 When you turn to our team for construction dumpster rental services, we will first discuss the scope of your project with you to determine what size container is best for your needs. We offer dumpsters in sizes of 10, 20, 30, and 40 yards, and we'll help you select the ideal size for your particular project. (We can also supply multiple dumpsters if necessary.)
Versatile Industries: Your Construction Dumpster Solution
Our team also does our best to provide same-day delivery services for our construction dumpsters, but even if we can't get the container to you that day, we will make sure to do so as soon as possible. When you are finished with your project, you can simply contact us again to have our team pick up the dumpster and dispose of its contents in the appropriate facilities. If you have questions about our dumpster rentals, just give us a call to get the answers you are looking for.
Our team is proud to serve the Midland, Texas area, and we want to help you make your construction project go as smoothly as possible. If you are looking for a reliable construction dumpster rental company, just give us a call.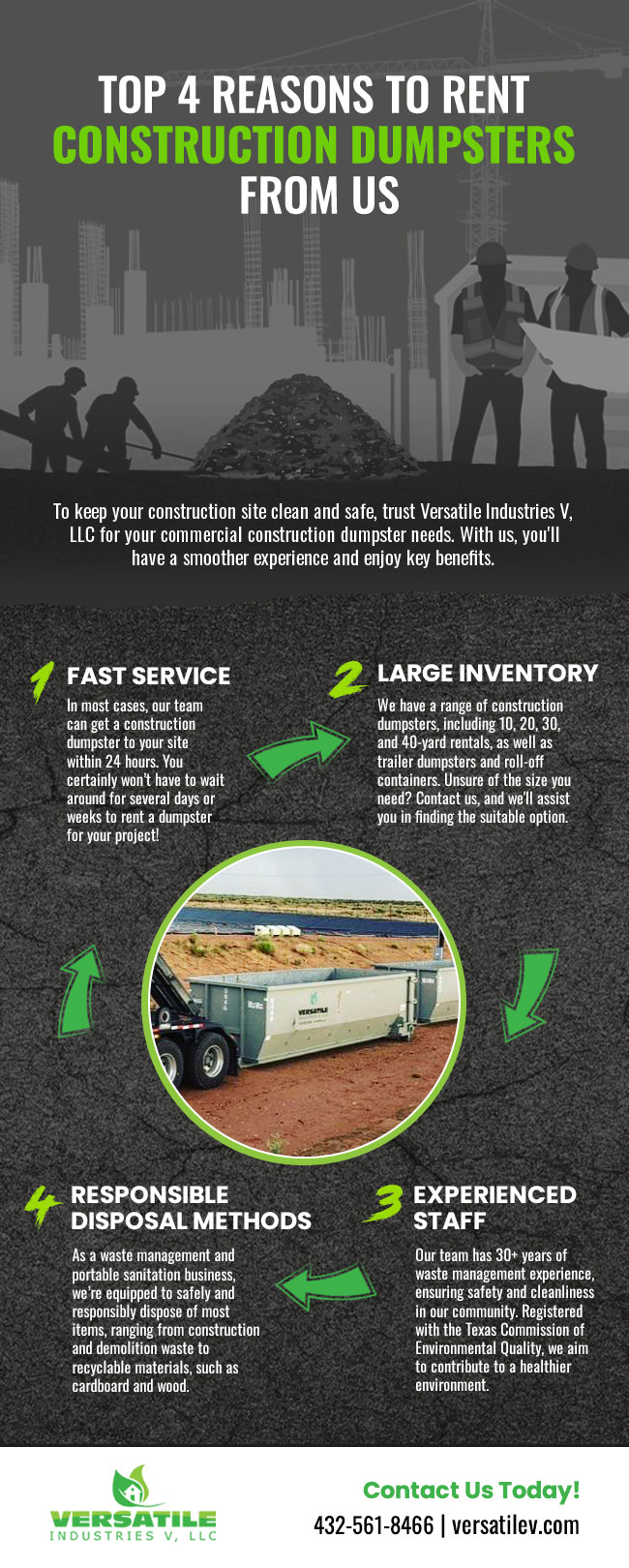 FAQs About Construction Dumpsters
If you're in the construction or landscaping industry, you may have rented a construction dumpster in the past. Having access to these larger refuse containers can help you and your team maintain a cleaner and safer working environment whether you're managing an industrial construction project or a residential renovation job. Next time you need construction dumpsters, you can rely on our team at Versatile Industries V, LLC for the quick, efficient services you require.
When would someone rent a construction dumpster?
In addition to industrial and residential construction projects, a construction dumpster can also come in handy for demolition jobs, home renovation work, landscaping projects, and other endeavors that generate a lot of waste.
What materials can I put in a construction dumpster?
Our waste management business can handle everything from scrap metal to demolition debris to concrete. Whether you're tearing down an old house, constructing a new building from the ground up, or remodeling your building, our dumpsters can handle anything you throw at them. Furthermore, we're registered with the Texas Commission on Environmental Quality and are passionate about reducing landfill waste. When you choose to work with our team, you can have peace of mind knowing that we'll carefully recycle all items possible and dispose of the rest responsibly.
How soon can you deliver a construction dumpster to my site?
As a locally owned and operated small business, we're committed to giving each customer the most convenient and efficient service possible. Since we have a large inventory of rental supplies and equipment, we can usually accommodate your rental needs within 24 hours of connecting with you.