We offer porta potties for construction projects, community events, and more.
In an ideal world, everyone would have indoor plumbing with climate control, but in the real world, we must make do with what we have. If you're a project manager who needs construction toilets for your crew or an event planner in search of porta potties for an outdoor community event, we are here to meet your needs in Midland, Texas and nearby areas. At Versatile Industries V, LLC, we have over 30 years of industry experience, so you can rely on us to provide the porta potties and sanitation services you are looking for.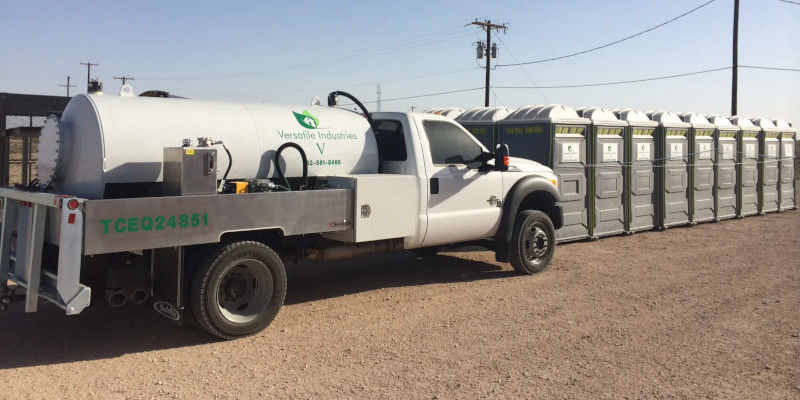 We bring you the best-quality porta potties, and by offering several options from single stalls to trailers with multiple configurations, we offer exactly what you need. Not only do we make sure all our porta potties are thoroughly sanitized and in excellent condition before we deliver them, but we also have hand wash stations available, so users can practice good hygiene while working on site or spending time at your event.
Although porta potties are the epitome of convenience in many ways, we go above and beyond to provide even more convenience when you turn to us for your porta potties. We maintain competitive prices, and with our huge rental inventory always available, we can get your porta potties to your chosen location quickly. Same-day service is possible in most cases.
If you need porta potties, contact us today to speak with a representative and request a quote.

FAQs About Porta Potties
There's nothing quite as uncomfortable as being outdoors without access to a clean and private place to use the restroom. Fortunately, you can avoid this feeling at your next event by choosing to rent porta potties from our team at Versatile Industries V, LLC. Below, our experienced team has answered a few common questions we've received in the past to help you make the right decisions according to your specific needs.
What kinds of porta potties do you offer?
We have a large inventory of single-stall porta potties, trailers, hand wash stations, and other options to suit your particular event. Whether you need a single porta potty for an outdoor graduation party or several porta potties for a major construction site, you can rely on us for the clean and convenient portable toilets you require.
Do I need a permit to rent a porta potty?
If you personally own the property where you plan to place a porta potty, you don't have to acquire a permit. However, if your event will be in a public place, you may need to get a permit from the specific venue in question. If you have any questions about permit requirements, you can contact our team for more information.
Why should I rent equipment from your business?
Our team has over 30 years of experience in the sanitation and waste management industries, and we're deeply committed to giving each client the best service possible. With our large inventory and quick response times, most of our customers can get their porta potty rentals delivered to their site within just 24 hours. Furthermore, we carefully sanitize and maintain each component of our equipment, so you can rest assured that you'll get a clean, high-quality unit every time.