Let us provide the most suitable dumpster rental for your project.
When it comes to tackling construction debris or other types of waste in large amounts, the best approach is to use a dumpster. A dumpster will keep all the waste in one place, keeping the property clear and making disposal much simpler once the project is complete.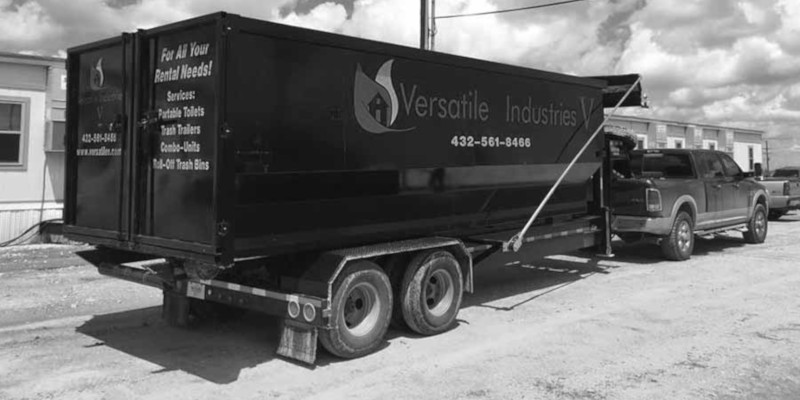 Since you likely don't have a dumpster of your own lying around, we are here to help at Versatile Industries V, LLC. Consider us your go-to source for
dumpster rentals
for all small or large-scale projects in
Midland, Texas
and surrounding areas. We have a huge rental inventory available, and we have the ability to deliver your dumpster rental to you in a timely manner.
We have provided dumpster rentals for many businesses in the past because even one dumpster can be an asset to all kinds of projects, such as construction, renovations or remodels, landscaping, and more.
"This company is top notch. "
"This company is top notch. They are friendly and honest. They take care of their customers like family unlike some of the other large name businesses where you are just a number!"
★★★★★ Team Modul, LLC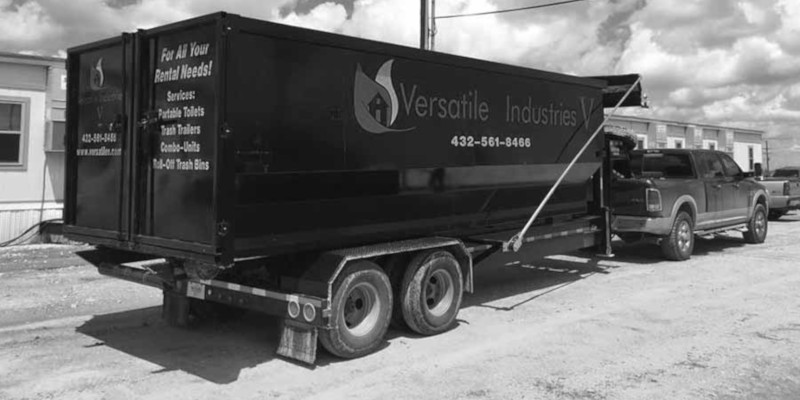 Dumpster Rental
No matter the amount of waste, we have a roll-off dumpster solution to meet the needs at each project site.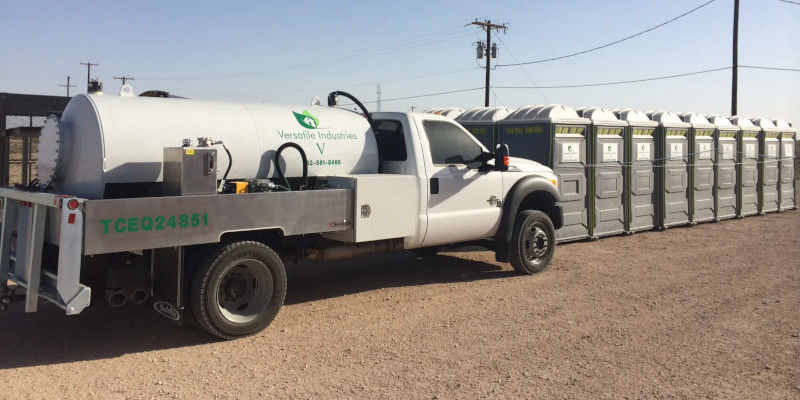 Porta Potties
Portable restrooms are in high demand in many different industry locations, such as oil & gas, renewable energy, construction sites, and community events. We are proud to offer competitive pricing and experience for each of your portable restroom needs.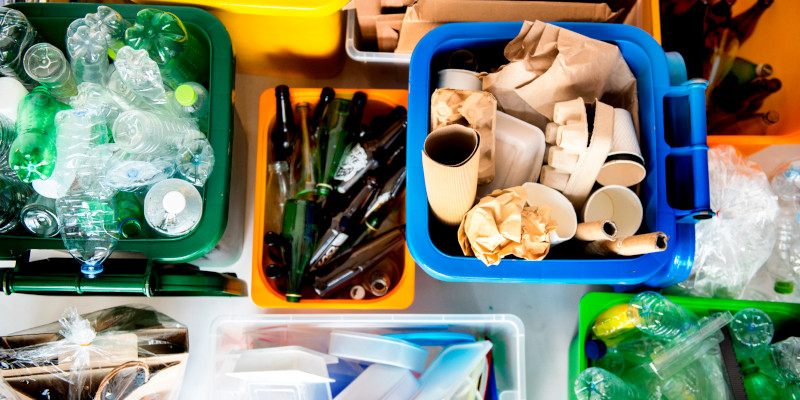 Recycling
With our team's knowledge of the fluctuating market, we are here to streamline your process by ensuring that your recyclables are handled professionally and with the utmost care.
We can help with all your construction waste needs.
No matter your reason for renting a dumpster, we are sure we can meet your needs with our wide variety of dumpster rental sizes. From 5-yard to 40-yard dumpsters and several sizes in between, our options make it easy to get exactly what you are looking for. If you are not quite sure which size is suitable, we are happy to make a recommendation once we have learned the details of your project.
If you need dumpster rentals, you can rely on our team to provide it. We can often deliver on the same day, and we guarantee your satisfaction.
FAQs About Renting a Dumpster
While they may not be the most glamorous items to have around, dumpsters are certainly convenient when you're working on a major project. Here at Versatile Industries V, LLC, we're happy to provide dumpster rentals for all your clean-up needs. Below, we've responded to a few frequently asked questions about renting dumpsters that could help you make the right decision for your next construction, renovation, or interior design project.
What size dumpster will I need?
The size of your dumpster will vary depending on the scope and size of your project. For instance, if you're clearing out your home of unwanted items or doing some interior renovation work, a 10-yard dumpster should suffice. For larger jobs, you may need one or more 40-yard dumpsters.
How does the disposal process work?
When you rent a dumpster from us, you won't have to worry about hauling your waste or debris away. Once you're finished using the dumpster, just give us a call, and we'll haul the dumpster and all its contents away for proper disposal. We take care to recycle whatever we can and follow sustainability guidelines to contribute to a cleaner community.
How quickly can you deliver a dumpster rental to my worksite?
In most cases, our team can deliver your dumpster on the same day you contact us. We strive to provide unbeatable customer service and response times, so if everything goes smoothly and we have the right equipment available for rent, you can expect a dumpster within 24 hours of contacting us. If you have any questions about selecting a dumpster or what types of contents you can put in a dumpster, simply give us a call anytime.
Why choose Versatile Industries V, LLC?
We offer a wide variety of services, including commercial roll-off dumpster rentals, portable sanitation, recycling services, environmental solutions, equipment rentals, and solid/liquid waste control. We strive to deliver the utmost customer service and loyalty throughout Texas area.
Check out what some of our customers have said about our dumpster rentals and other services.
We can deliver the number and size of dumpsters you need to your job site
Our construction dumpsters offer several benefits
Similar Services We Offer: