Let us provide the most suitable dumpster rental for your project.
When it comes to tackling construction debris or other types of waste in large amounts, the best approach is to use a dumpster. A dumpster will keep all the waste in one place, keeping the property clear and making disposal much simpler once the project is complete.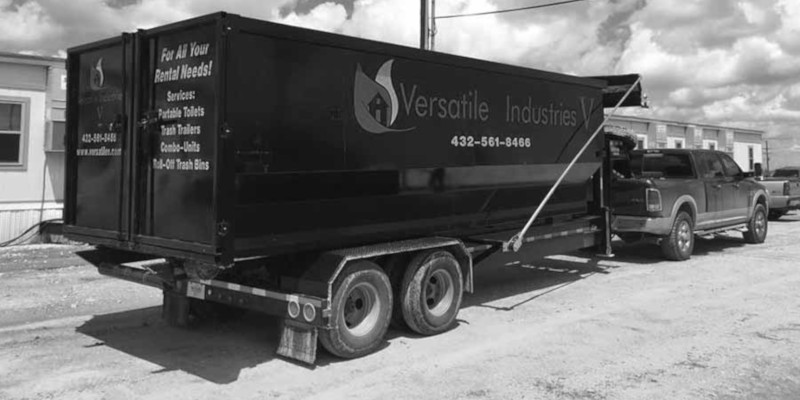 Since you likely don't have a dumpster of your own lying around, we are here to help at Versatile Industries V, LLC. Consider us your go-to source for dumpster rentals for all small or large-scale projects in Sherman, Texas and surrounding areas. We have a huge rental inventory available, and we have the ability to deliver your dumpster rental to you in a timely manner.
We have provided dumpster rentals for many businesses in the past because even one dumpster can be an asset to all kinds of projects, such as construction, renovations or remodels, landscaping, and more.
Versatile Industries: Your Construction Dumpster Solution
No matter your reason for renting a dumpster, we are sure we can meet your needs with our wide variety of dumpster rental sizes. From 5-yard to 40-yard dumpsters and several sizes in between, our options make it easy to get exactly what you are looking for. If you are not quite sure which size is suitable, we are happy to make a recommendation once we have learned the details of your project.
If you need dumpster rentals, you can rely on our team to provide it. We can often deliver on the same day, and we guarantee your satisfaction.
FAQs About Our Dumpster Trailer Rental Services
If you're looking for simple, convenient, and cost-effective dumpster trailer rentals, turn to us at Versatile Industries V, LLC. Below, we've answered a few questions about these rentals, so you can feel confident about reserving your next rental.
What is a dumpster trailer?
A dumpster trailer is a type of construction waste container that is mounted onto a wheeled trailer frame. These containers are available in the same sizes as standard construction dumpsters, but they are easier to transport to and from your site. If necessary, you can also move them around your worksite.
Why should I rent a dumpster trailer?
Our dumpster trailers offer a convenient way to dispose of construction and landscaping materials during a large-scale project. This way, you can continue with your project without trying to find a way to move excess materials around.
What is your rental process like?
We make renting a dumpster trailer a quick and easy process! Simply tell us you need a dumpster trailer and the size you need. We'll set up a time to deliver to your site and then haul it away once you're done.
What can I dispose of in a dumpster trailer?
Typically, you can dispose of most landscaping and construction materials. Check with us if you need to dispose of a material you aren't sure about.
How do I get a quote?
If you want a quote for a dumpster trailer, contact us! We're happy to answer any of your questions at this time as well.