You can count on our team to supply the portable toilets you need for your site.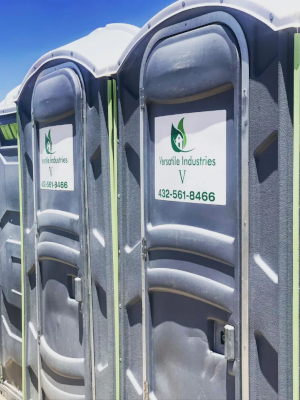 Our team at Versatile Industries V, LLC has been working in our industry for over 30 years, and we are familiar with the many challenges involved in completing any project. For example, if your crew is working on a construction site, road repairs, or industrial projects, you will need to make sure they have adequate restroom facilities. We offer high-quality portable toilets to make sure your workers can remain safe, healthy, and comfortable on the job. If you need restroom facilities for your staff, we encourage you to give us a call.
When you call our team to find out more about our portable toilets, we'll first help you determine how many toilets your crew will need. We'll then help you choose from among our variety of toilet options—we offer both single-stall porta-potties and restroom trailers in a variety of configurations, and we also supply hand washing stations to make sure your workers can practice effective hygiene.
Before we deliver your portable toilets, our team will thoroughly clean and sanitize every part of each unit, so you and your workers will be able to use the toilets comfortably from the start. To learn more about our portable toilets or other services, just give us a call.
We are proud to serve the Sherman, Texas area, and we want to help you with all your construction needs. If you are looking for high-quality portable toilets for your work site, just give us a call to find out how to get started with the rental process.
---
At Versatile Industries V, LLC, we rent portable toilets to those in Midland and Sherman, Texas.
Similar Services We Offer: