30-yard dumpsters are a waste management solution for projects with substantial disposal needs.
The 30-yard dumpster is a robust solution in our waste management lineup, designed for projects that demand significant waste disposal capacity. To visualize its size, consider a standard pickup truck. A 30-yard dumpster can accommodate the equivalent of approximately nine truckloads of waste.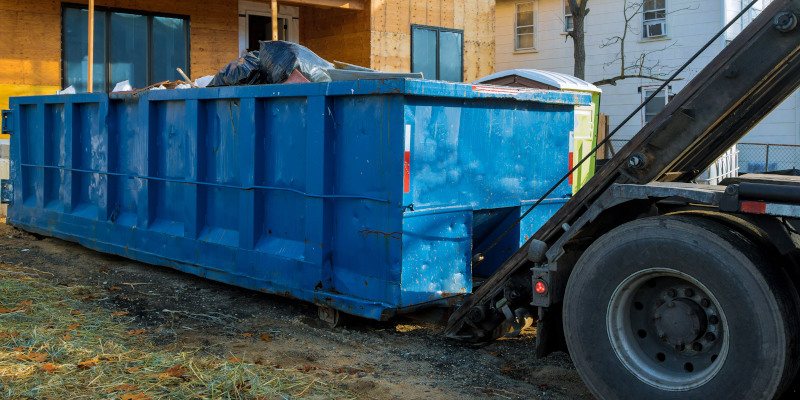 Our 30-yard dumpsters can be used for a range of projects, including the following:
Major Home Additions. Expanding your living space or adding significant structures to your property often results in substantial waste. This dumpster is equipped to handle such volumes.
New Construction Projects. Initiating a new residential or commercial construction generates considerable debris, and from foundational waste to roofing materials, our 30-yard dumpsters can handle it all.
Extensive Landscaping. 30-yard dumpsters are ideal for large-scale landscaping endeavors, such as terrain reshaping or pool installations, that produce significant waste.
Full Home Cleanouts. For those clearing out extensive properties or preparing sizable homes for sale, this dumpster can manage the volume of old furniture, appliances, and accumulated items.
Commercial Renovations. Upgrading or renovating commercial spaces, be it offices, restaurants, or retail establishments, results in a considerable amount of waste that often merits a 30-yard dumpster to handle it all.
In terms of weight capacity, 30-yard dumpsters are typically designed to handle between 7,000 to 10,000 pounds. We'll consult with you about your project and the specific weight limits to help you avoid potential overloading and associated fees.
At Versatile Industries V, LLC, our 30-yard dumpsters provide a reliable waste management solution for projects with substantial disposal needs. Their capacity and durability make them a preferred choice for residential and commercial endeavors. Our team is available to assist if you require guidance on selecting the appropriate dumpster size for your Sherman, Texas project. Contact us if you're looking for efficient and effective waste management for your next project.
---
At Versatile Industries V, LLC, we rent 30-yard dumpsters to those in Midland and Sherman, Texas.